Get Your Career Story Out There – the Narrative Bio
By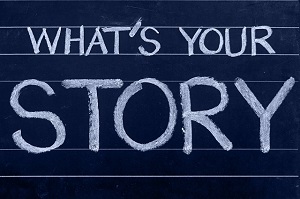 Many people stick to the traditional methods of marketing themselves using tools like resumes and cover letters. Don't get me wrong, these are essential to conveying your value to potential employers, provided that they are well prepared and tailored to the needs of that organization. But there are other methods as well which include online strategies and social media – hmmm, a topic for a future article in 2017 (stay tuned!).
Today though, I'd like to introduce a simple document to add to your repertoire, starting with the Narrative Biography. This document captures your career story in a way that makes for an interesting read about the talents, passion, and experience that you bring in your field of employment. Daisy Wright of The Wright Career Solution recently released a book about the power of our stories and their relevance in the career transition process entitled "Tell Stories – Get Hired". What better way to capture attention than to share yours in a compelling way as you warm up your intended audience.
A well written bio contains the following elements:
A captivating opening paragraph which not only portrays your background, but also conveys that you possess the competencies needed in your role, for your field.
Anecdotal stories about how you got started in your career and what attracted you to what you do today.
A summary of your proudest moments in life and career, relating examples of times where you have made a difference.
The credentials that you have earned during the course of your career and information that adds to your credibility as being the best at what you do.
Personal information about you, such as interests and hobbies, as well as the contributions that you make to the communities you are connected to.
A closing that evokes interest for your potential target to want to learn more about you and how you can help them to overcome the challenges that they face in their businesses.
We all have a story and sharing it effectively with people can open doors to opportunities that we may have not even considered. In fact, the exercise of drafting a Narrative Biography can be a great way to prepare for getting in front of live audiences to tell parts or your entire career story.
For career practitioners, having clients complete this exercise can be a great way to get them to tell us about what they have done in their careers that may seem trivial to them but are actually significant accomplishments and contributions to the work that they do.
A few years back, I was working with a Marine Biologist who shared a fascinating story about being on a vessel at sea as it was capsizing. In that moment, she needed to make life and death decisions at the snap of a finger. We had already been working together in her transition for several months when she told me this story and I immediately felt and saw how this was a story that a potential employer might identify as an illustration of someone with the ability to make decisions under pressure and with experience overcoming urgent challenges.
Here are some simple ways to utilize this document:
Upload it to your LinkedIn Profile (or other online sites) and reserve the Resume as your ace in the hole till you really need to apply for a position (giving you more time to make sure it is customized).
Have it ready when attending Networking events combined with a Business Card with the same look and feel that portrays a consistent brand and value proposition.
Include it as part of a mini-portfolio package when you arrive at interviews. Pick up a few inexpensive duo tangs, binders, or portfolio sleeves, and have all documents that you submitted in the application process on one side of the binder and new documents such as a Narrative Biography on the other.
Use it as a starting point to extract portions of your story that can be used on corporate websites and other organizational materials when needed.
Back in September, our blog suggested that going beyond the traditional marketing materials and going with a portfolio was a good way to knock on new doors. We'll continue to share ideas like this as we enter the New Year.
Take some time this holiday season and consider expanding your repertoire of marketing materials. Think strategically as you develop your newest collateral and then be ready to put your plan into action. There's nothing like a fresh start and if you've done your ground work, you can start to put a dent in getting through to people you need to persuade to meet you while helping to understand the expertise that you can offer to their business.
Happiest of New Years to one and all … may 2017 be one filled with health, prosperity, fulfillment, and happiness!
Wayne Pagani brings over 20 years' experience in the career development field supporting people in their career transitions and navigating their way through the career / life paradigm. No matter what stage you're at in your career, the experts at W.P. Consulting & Associates are here to help.