Ready Sept – Go! And Go Portfolio!
By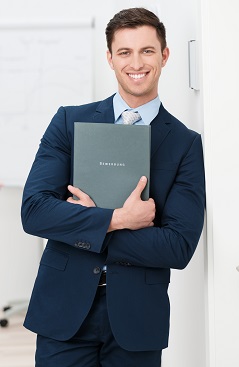 Seems like just yesterday we were getting ready for summer vacation and the impending relaxation that comes with it. Yet here we are, already into September. If you're in a career transition, are you ready?
Our May and June articles focused on ways to enhance your Résumé and Cover Letter in "Résumés Done – Now What?" and "We All Focus on the Résumé". Today, I would like to explore what you can do to expand your career marketing tool kit and think strategically to position yourself more effectively and more successfully for your next opportunity.
Most people understand how to use a résumé and cover letter in a job search. However, there is much more to a successful job search than simply submitting a résumé and hoping you get the invite to an interview. If you haven't already done so, get organized now so that you are approaching your transition strategically and consider expanding your Marketing Portfolio.
Here are a few ideas that you might consider to make your approach and your marketing arsenal a little more robust: Thank You Letters, Networking or Introductory Letters, Recruiter Letters, Biography, Key Initiatives, and a Comparison T-Chart, just to name a few. Be sure to brand these with the same look and feel, bolstered by a powerful Value Proposition that conveys a consistent message about the value you offer to a potential employer.
A branded business or info card can also go a long way to filling the gap while networking in a career transition to either complement your marketing materials or act as a standalone item. This can also eliminate the need to supply a résumé to everyone you come across, when likely if it is needed a customized résumé will be much more effective.
For more senior professionals, a Business Case may be in order, helping to reflect the industry-specific expertise that you have to offer with a future oriented perspective that will help a potential employer understand how you can help them to offset current or projected challenges. Then again, some of my clients have used this approach to prepare for a salary negotiation, featuring the return on investment that they might bring while gaining the highest level of salary available.
Having a compelling marketing package is enhanced by knowing how to use it effectively in conjunction with effective techniques to market yourself. Open this exercise about your marketing tools and answer the questions as it relates to several options for marketing materials if you're thinking forward as to how to get a foot in the door to that next opportunity.
People typically perform best when they are better prepared, so think about what you need to include as you start "knocking on the doors" of your future employer. A well rounded Marketing Portfolio that is applied strategically can be a difference maker to achieve your objectives. Not sure where to start or how to go about it, feel free to drop us a message and we'll set up a brief call to discuss your needs.
In the interim, stay tuned and our blog articles over the fall and winter months will be detailing ways to incorporate some the ideas from this article in your career transition marketing strategy.
In closing, I would be remiss if I did not acknowledge our summer blog series for students and youth. This summer we featured a series of excellent articles to support students with summer employment and future career planning contributed by Jean-Philippe Michel of SparkPath … thank you, JP! Looking for career guidance and/or academic advice while planning your next steps, check out SparkPath.