We all focus on the résumé …
By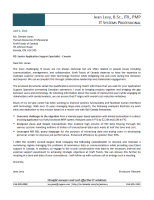 Most people understand the importance of having a well written résumé that not only represents them authentically and accurately, but will be compelling enough to the hiring manager to win the interview. But what about the supporting cast? This month, we'll start with the standard sidekick that accompanies the résumé, the Cover Letter.
What is a Cover Letter and what is its purpose?
There are diverse opinions about the necessity of a cover letter when applying for a position.
Rule of thumb: unless the job posting stipulates otherwise, include a cover letter. Although not every hiring manager will read the cover letter, a well-written cover letter that helps the reader understand more about the candidate and the enclosed résumé, will help to distinguish an application.
A cover letter provides a means for direct communication with the hiring manager or decision maker. It acts as an introduction, and provides a medium to deliver a sales pitch articulating the value that an employer will receive in exchange for services rendered. It can also be the vehicle to address potential issues.
When a candidate has a clear value proposition, this message must be consistently conveyed throughout their marketing documents.
The length of a cover letter is usually one-page. An exception might occur when the candidate includes a T-Chart or provides additional supplementary information that complements the other documents submitted. However, for the most part, the cover letter is most effective when it is short and to the point. The less the reader needs to review, the easier it will be for them to get what they need to make a decision and move on to the résumé.
Cover Letter Prep – Check List:
Conduct Market Research – list your findings about the industry / employer needs and challenges
Assess job postings or other material related to this role for that company
Ascertain what the employer preference might be about the inclusion of a cover letter
Utilize questionnaires and strategic planners to extract/gather information for your letter
Have a strategy – a clear plan about how to approach targeted industries and employers
Write strategically – identify ways that can help the feature items stand up off the page
Develop a Value Proposition – articulate how you offer what the employer seeks
Five Elements of an Effective Cover Letter:
1.  The Introduction or Opening
Write a unique introduction that is short yet compelling while capturing the necessary information required by the reader. Come up with something that is different from "as per your job posting on this date…" for example. In one sentence, describe what's in it for the employer: benefits, value, bottom-line impact.
Tell the employer what you possess that they seek and why you are the right fit for this opportunity. In other words, why should they be interested in meeting with you for an interview?
2.  The Offer or Pitch
Back up your Value Proposition with the credentials and qualifications that qualify you as a candidate. The Pitch is a summary about what you bring in years of experience, areas of expertise, and skills. Essentially, this section establishes credibility.
3.  Supporting Qualifications such as Skills & Accomplishments
Provide examples of how you have used the skills and experience that you introduced in the previous paragraph. Especially make sure to include examples of how this is a "value add" based on past performance.  Possible skills to illustrate here might include: Leadership, Teamwork, Interpersonal and Communication skills as well as your ability to solve problems, just to name a few. But be sure to include clear results revealing the impact that you have had on the bottom-line or the mandate of the business.
Make sure that the examples relate to the position, employer, and/or field supporting what you said in the first two paragraphs. Design these statements in an ACTION + RESULT format.
You can give your example in a narrative format, using one or two relevant examples that help the reader understand how you've achieved what they're looking for in the past. Or you might prepare a minimum of three accomplishment statements, no longer than two lines beginning with action verbs, to describe various competencies and results that they need for this position. Sample Cover Letters can be found on our Resources page.
4.  Your Add-Value
This is the uniqueness that you bring to the role; it's what sets you apart from the other candidates. Your Added-Value can be a lot of different things, but you want to share that one redeeming quality that makes you the best at what you do. Maybe it's the languages that you speak; it could be your natural talent for engaging people, or unique international experience. We all have added-value characteristics to offer to an employer, just be sure that what you include here is relevant to the role, industry, and organization.
5.  The Close and Call to Action
What is it about the company that has attracted you? Is the company a recognized industry leader, do they possess the values and culture that makes this a good fit, or are they on verge of massive growth that will require your sill set and experience? Whatever it is, it needs to be true and you need to be authentically interested in that aspect of the company. Then wrap up the cover letter with a request for an interview with the intent to follow up, so they expect the call.
Be sure to include a salutation and leave enough room for a signature on hard copies. Close by indicating what Enclosures, such as a Résumé, that you are including.
A well-written cover letter persuades the reader to pay special attention to the résumé. If possible, avoid the use of the words" "I and "my", writing instead about the employer. However, do not omit these and make it difficult to read at the sake of expressing your story and value proposition to the company.
Always talk more about what you can do for the prospective employer than about what the employer can do for you. Most employers hire people because they need to fill a role related to functions essential to the business or to overcome certain problems and challenges. Centre the cover letter on the employer's needs, not your wants.
Over the summer months, we are going to feature a series of articles from guest contributor JP Michel of SparkPath, who specializes in supporting youth to develop a career road map.
Have a safe and fun summer everyone!
Recommended Resource:
Best Canadian Cover Letters by Sharon Graham