Summer Opportunities for Teens in Ottawa
By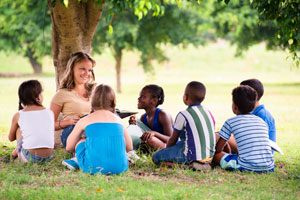 Is your teenager ready to take on new challenges? Are you looking for opportunities for them to grow, learn and develop new skills?  Here are a few local growth experiences that might be just what you're looking for:
Volunteer: Volunteering can help teens develop crucial teamwork and organization skills, all while exposing them to the world of work. It can also help them clarify what they like and don't like.
You can help your teen pick an organization or a cause they believe or are interested in. For inspiration, students can visit Volunteer Ottawa's site to find postings. Alternatively, they can think of their favorite places in the city and research their volunteering programs. For examples, museums, hospitals, community centres and some businesses offer volunteering programs for students.
Work: Summer jobs can offer invaluable experience to students who are interested in exploring the world of work. There are many resources available for young people looking to work, such as the Youth Services Bureau Employment Services and the City of Ottawa Youth Job page.
School Programs: The University of Ottawa, Carleton University and Queens University all offer fascinating options for students looking to explore a specific subject during the summer. All their summer program pages are worth exploring. One example is the engineering school at the University of Ottawa, which offers several programs: TeenSci, TeenTech, Enrichment Courses and MakerSpace. If these programs aren't a good fit this summer, you can always participate in the Enrichment mini-courses that happen at the beginning of May.
Summer camps and leadership programs: A popular option for an immersive experience is to send kids to summer camps or leadership programs (day and/or overnight camps). Here are several resources that can help you find a camp that fits:
Government of Ontario Programs: The Ministry of Training, Colleges and Universities has created a terrific list of Enrichment and Summer Opportunities. Featuring over 20 opportunities, this list has some exciting options that are sure to engage.
Online learning: For an intellectual challenge, your teenager could take an online postsecondary-level course (for free) from some of the world's best colleges. This would expose your teen to fascinating topics and could ignite hidden career and education interests. Through these classes, students have access to online study groups and forums to interact with students from around the world. Here are two sites to check-out first: www.coursera.org and www.edx.org.
Create your own: In addition to these options, students should strongly consider creating their own summer experiences. For example, they should reach out to professionals whose work they find interesting and organize short coffee dates (or informational interviews). Students get to meet with professionals who share their experience, expertise, enthusiasm and zeal for what they do for a living. Sometimes these conversations could lead to ad-hoc one day, one week or one month internships. For example, by asking: "Are there are any projects I could help you with this summer?", students might unlock hidden opportunities that might be mutually beneficial for an employer and the student.
What other experiences would you recommend for students in Ottawa?
Jean-Philippe Michel leverages his experience coaching high-performing leaders to help high-school students develop their potential, set ambitious career paths, and choose the university program that will help them accomplish their goals. He can be reached through SparkPath, where he leads the development of programs and one-on-one-coaching engagements.
Photo © diego_cervo / depositphotos