Résumé's Done – Now What?
By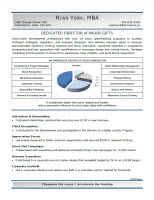 So you've just wrapped up an exhausting draft of your resume and you're ready to get it out there and start letting the world know just what you can do for your future employer. But wait …. will this document really let them know that? Also, how is your document going to stand out from the crowd when hundreds of candidates (or more) are submitting on the same posting?
Have you thought through how you will position yourself and develop a strategy that sets you apart? Or like many others, will you now take this generic document and send it out to every job posting you come across online that is even remotely similar to what you are looking for? Keep the following in mind as you move forward if you want to increase the odds of being recognized:
What is a résumé and what is its purpose?
A résumé is a marketing tool that is intended to capture the reader's attention. When it is designed and written effectively it stimulates action – that leads to an invitation for an interview.
Although the objective here is to land the interview, the first mission of any résumé is to make it to the second round of readings where the employer can narrow the document down to identify candidates.
Remember that while the résumé is a marketing tool for the job seeker, it is a screening tool for the employer or recruiter. Just like an advertisement, the résumé needs to hook the interest of the reader. Résumés are initially scanned by the reader for about 30 seconds or less when they decide whether that résumé goes into the IN or the OUT pile.
So one might view this marketing process from a business perspective. Most of us are familiar with the 6 P's of marketing – this is Marketing 101: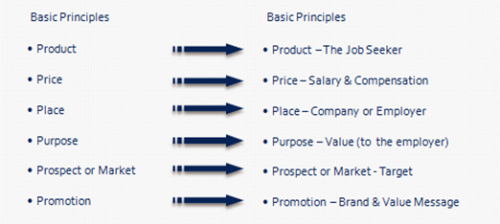 What value do you offer to the employer (or client)?
A well-developed marketing plan that includes a clear understanding of the consumers' (employers') needs and point of view will go a long way to drafting an effective marketing document such as a résumé. So here are some "do's and don'ts":
DO – Conduct Market Research – know the industry and employer needs as well as terminology
DO – Develop a Value Proposition – articulate how the candidate offers what the employer seeks
DO – Use keywords, include key words that reflect core strengths and competencies relevant to the role and industry
DO – Include accomplishment statements that contain clear results from actions taken; develop Situation, Action, Result (SAR) stories to create powerful SMART statements
DO – Ensure white space – make sure the document is reader friendly and avoid having significant information buried
DO – Tailor the documents – customize the content for every résumé, letter, and/or document
DON'T – Copy and paste information directly from websites or job postings into documents
DON'T – Use templates unless absolutely necessary – instead create a unique document that stands out
DON'T – Develop a résumé that only contains tasks or task-oriented statements with no results
DON'T – Send generic documents to various employers using the same résumé for different target companies and positions
DON'T – Forget to proofread the document(s) and ensure that there are no errors
DON'T – Overlook the fact that many employers today use Applicant Tracking Systems to screen applications
Have a strategy – a clear plan about how to approach targeted industries and employers. Complement your application activity with sound networking and relationship building activity and get behind the scenes to be known as a subject matter expert in your field.
As we said earlier, a résumé is a marketing tool, but it can only go so far. You need to be the driving force behind your job search and use the résumé effectively as one of many marketing tools at your disposal.
Next month, we'll look at other documents that might make up that marketing portfolio and how to apply them in your strategy. Have a great month and remember the 6 P's of Marketing as you navigate the landscape to your next opportunity.