How to Get Your Resume up to Speed
By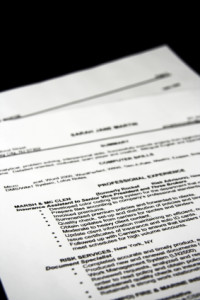 As you prepare to leave school and the workforce, it goes without saying that you'll need to update your resume. Even if you have no formal work experience, a well-written entry level resume will make you stand out from other candidates and help you get your foot in the door.
Make sure you describe the experience you gained in your part-time, summer, and co-op positions, but don't stop there. Your resume should also include the skills you attained while working on academic projects, such as research, writing, and teamwork. In addition, be sure to add any volunteer activities you were involved in. Were you the president of the student association? If so, mention that on your resume as well.
Active voice is more dynamic than passive voice, so keep this in mind when listing your accomplishments. As an example, Processed orders with 98% accuracy in a fast-paced environment has much more impact than Order processing.
In addition to ensuring that your resume is up-to-date, you will need to decide what resume format will present you most effectively. The two main resume formats are chronological and functional.
A chronological resume is the right one to use if you returned to school after establishing your career. This format lists your experience and education in reverse chronological order. Don't be afraid to include the dates you were out of the workforce furthering your studies, as this will be less worrisome to potential employers than an unexplained gap.
If your work experience to date has been limited, you might choose to use a functional resume instead of the chronological one. A functional resume summarizes your skills and education by category and puts less emphasis on the dates. The layout might be something like:
Education
Professional Skills
Self-Employed or Entrepreneur
Communication Skills
Sales Experience
Multilingual Skills
Honours Bestowed
Other Activities
Choose headings that fit your background and best highlight the skills you will need in your new job.
Remember that your resume is the first impression most prospective employers have of you. This first impression must be favourable to expedite your entry or re-entry into the work force.
Janet Barclay is a virtual assistant and former employment counsellor who has supported career professionals and other small business clients since 2003. She can be reached through her website organizedassistant.com.
Photo © Stuart Monk / iStockPhoto
For sample entry-level resumes, refer to Best Canadian Resumes, and for additional support, inquire about our next Career Planning for Youth Workshop.